Photo Capture Strategy
Functionality
Datacard is offering a no cost capture plug-in that will provide photo capture functionalities into ID Works and WebID. Prior to the plug-in being released, these capture options are still available:

1. Any TWAIN compatible device will work with Datacard ID Works software
2. Datacard offers the Datacard 1-2-3 Easy ID Card System.
Functionalities of the capture plug-in
Auto Crop
Auto Focus
One-Click capture
Manual Capture
Manual Crop
Photo Select Screen
Flash Control when pop-up flash is up
White Balance
Exposure Control
Image Quality Control
Live Preview
Datacard software platforms supporting the capture plug-in
All ID Works editions v5.1 SP1 and v6.5
WebID Workstation v6.0 and above
Capture Server v5.0 and above
TWAIN compatibility is still available
TWAIN compatibility will still be available through ID Works without the capture plug in.
Capture plug-in Tool
Camera
Canon EOS 1000D
Cameras compatible with the capture plug-in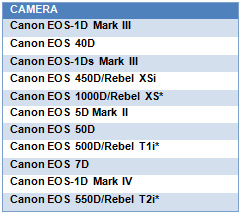 *These cameras have been tested by Datacard. Other cameras use the same SDK and will be compatible with the plug-in.

Datacard will continue to update the plug-in and our ID Works software moving forward to make sure that current market cameras will work with our software solutions. As new DSLR cameras become available, Datacard will update our software as necessary.